WHAT WE SAY ABOUT SOCORRO ISLAND
The Nautilus Explorer voyages out to Socorro Island to dive and interact with the friendliest giant mantas in the world. This is by no means a trivial goal. Our highly experienced crew have spent many years diving these waters which gives you the edge needed for a truly spectacular experience. These are true giant mantas, Manta birostris (aka manta ray), and should not be confused with the regular and smaller Mobula species, which can be seen far more often and practically everywhere. The giant Pacific mantas which you will meet at Socorro are the largest of the rays and we believe they are the most majestic creatures in the ocean. They swim by moving their wing-like pectoral fins, which can grow up to 7 meters wide, but usually average about 5 – 6 meters. At Socorro, these giants choose to interact with divers! They come in very close – less than 1 meter! – make eye contact with you and then swim along beside you – totally on their terms. What is even more extraordinary is that the local population of bottlenose dolphins have learned to mimic the behaviour of the giant mantas. It is very likely that these wild dolphins will also move in close and intimate to divers during your trip.
Shark sightings are also very good at Socorro Island with common sightings of silky, galapagos, hammerhead, white tip and silver tip sharks. Whale sharks are usually spotted at the beginning of and the latter part of our season. A population of 1200 humpbacks moves into the island's waters in January and chances are excellent that you will have encounters with these mighty giants. You may even hear them singing through the hull of the ship at night as you lie in your bunk. Schooling hammerhead sharks may be seen at any time but the best chance to see large schools up close is April – June..
SOCORRO ISLAND WILDLIFE CALENDAR
November/December
Diving at Socorro is all about big animals and is especially famous for unique up close and intimate interaction with giant mantas and dolphins not to mention 10 different species of sharks. Water temperatures in November and December are the warmest of the year in the low 80's. Special feature this time of year is seeing whale sharks in the blue water and often brilliant visibility.
January to April
Up close interaction with giant mantas and dolphins happens consistently year-round at Socorro. The unique interaction with giant mantas is what Socorro is famous for! The sharking is not bad either with 10 different species of sharks resident in the Islas. The water temperatures start chilling down to 73 – 74 degrees in January, which is when 1200 humpback whales from Alaska migrate down to Socorro for mating. You will see loads of whales on the surface and you will hear them singing underwater. You may even hear them singing through the hull of the ship at night.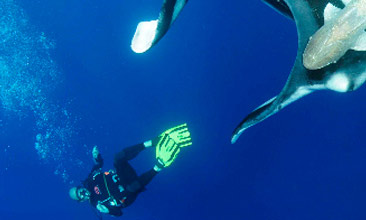 May to July
Bait Ball Season! Scientific research indicates that there are more giant mantas at Socorro during bait ball season than any other time of year. It always seems like everything intensifies with more sharks including schooling Silky sharks mixing it up with schooling Hammerheads, lots of tuna and pelagic fish and even pilot whales. Our very friendly dolphins and 10 species of sharks are resident. Whale sharks are back. Water temps are on the definite rise to mid – high 70's.
WHY BOOK WITH NAUTILUS ?
You will have the chance of a lifetime for truly spectacular interaction with giant manta rays. Other dive boats visit these islands but only one of them has the experience necessary to get you up close and intimate with these animals.
Our crew and staff take great pride in our beautiful little ship. It was custom designed and built specifically for this kind of work and we keep it in tip top shape. No other ship in this part of the world boasts SOLAS certification (your guarantee of safety at sea), stabilization for an easier ride in open ocean, a mixed crew of men and women with decades of combined experience or all the little touches like a sparkling clear hot-tub, wide selection of micro-brew beer, fine wine, contemporary menu, etc.